All our collaborations reflect our ideology, vision for the future and are our sincere efforts at reaching out to communities in a bid to create a movement of social change.
Animal Assisted Therapy
Understanding the impact of animal assisted therapy, we have partnered with Animal Angels Foundation to facilitate behavior change among our students. Therapy dogs are a regular sighting at Advitya, and through carefully planned therapy modules we have been successful in moderating behavior of our special students and thereby enhancing their happiness quotient.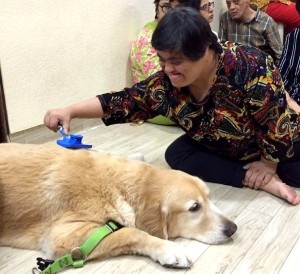 Self Help Groups
We believe that the effort we put into ensuring a constructive utilization of our students' talent must be backed by equally noble resources. Having collaborated with Self Help Groups (SHGs), we source our raw material from craftswomen working in the slums of Mumbai, which empowers them to earn a living and provide for their families.
Senior Citizens
In our bid to integrate various causes and create a reverberant movement, we have an extensive volunteering program specifically designed for senior citizens. Advitya has been a haven for many retired yet motivated people who wish to spend their free time in a meaningful manner where they can indulge in philanthropy and human welfare.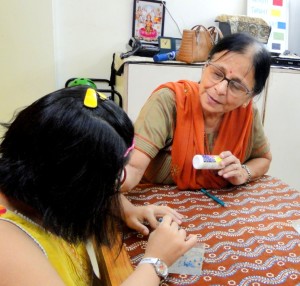 Community Service
Service to community is a process of sensitization that must begin at a very early age. Keeping this in mind, we have partnered with various schools and colleges across the country wherein students come to spend time with our special ones. They develop a profound understanding of the cause and its challenges and work towards exploring opportunities for the growth and development of the organization and our special ones.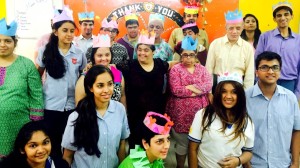 Corporate Social Responsibility
We are in constant pursuit of corporate houses that vehemently support the idea of consciously giving back to society. A number of companies carry out their Corporate Social Responsibility programs with us by way of employee-volunteering initiatives, encouraging the skills of our students through orders for corporate gifting, providing us opportunities to exhibit and sell our products in their office premises and financial assistance.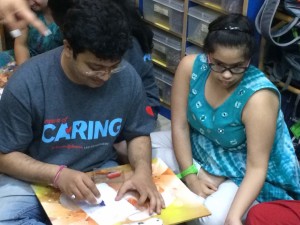 Exhibitions
The products worked upon by our students range from bags, jewellery holders, office stationery and home décor to wallets, slings and a host of lifestyle items. The patterns oscillate between ornately ethnic and contemporary Indo-western styles, lending a great aesthetic sense to its utility. All the work done on them is extremely intricate and is completed after hours of focus and detailing by our special ones. To showcase their work, we regularly participate in some of the city's most celebrated exhibitions where the products are immensely appreciated and their hard work is duly recognized.